|What is Point-Paid Calls?|Point-Paid Calls (for Masters)|
How to become a User
How to start using Point-Paid Call (for Users)
First, you need to agree to the Terms of Use and follow the instructions on the screen to start using the service.
---
About Point-Paid Call (for Users)
You can do the following.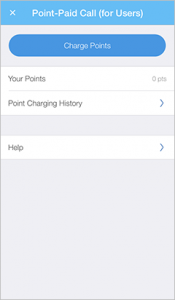 Charge Points

You can charge (purchase) points to make a point-paid call.
Note: The points are only available for Point-Paid Calls (for Users).
Click here for details of point charging.

Your Points

You can see your points balance.

Point Charging History

You can see your point charging (purchase) history.
---
To make a call
Outgoing Call Screen for Users
---
You can see the points deducted during a call in the History.
---