|What is Point-Paid Calls?|Point-Paid Calls (for Masters)|
How to become a User
How to start using Point-Paid Call (for Users)
First, you need to agree to the Terms of Use and follow the instructions on the screen to start using the service.
---
About Point-Paid Call (for Users)
You can do the following.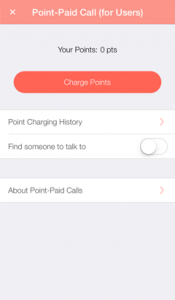 Charge Points

You can charge (purchase) points to make a point-paid call.
Note: The points are only available for Point-Paid Calls (for Users).
Click here for details of point charging.

Your Points

You can see your points balance.

Point Charging History

You can see your point charging (purchase) history.

Find someone to talk to

Enable this function and then a Master's profile and number will be disclosed. You can then make a call to that Master if you like.
Note: It is possible that profiles and numbers will not be displayed. The number of Masters you can find will depend on the number of Masters who have enabled this function.
Note: The function is supported in version 1.6.20 or later for iOS and 1.6.17 or later for Android.
Click here for details of Find someone to talk to.

When you turn on the Find someone to talk to

A dice will appear on the keypad screen to select a Master at random who has enabled this function. A Master number will be displayed.
Note: If you tap the dice again, another Master will be selected at random.
---
To make a call
Outgoing Call Screen for Users
---
---
You can see the points deducted during a call in the History.
---