[ iOS ] Main Changes in Version 1.3.8 are the following.
Added support for universal links.
Changed some User Interfaces.
Improved stability and bug fixes.


What's universal link?
It is a link directly to a specific location within the app without going through Safari.  Note: In iOS 9 or later, universal links work like that.
Before this update, a web browser was launched first by tapping a URL (https://~) notified in the "I'll share my SkyPhone number with you." email message.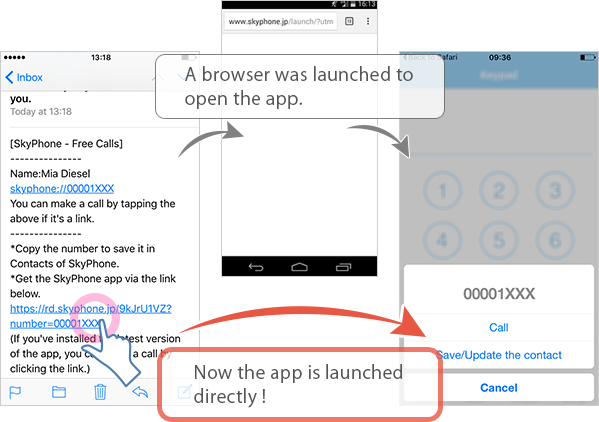 In iOS 9 or later, you can select "Call" or "Save/Update the contact" directly on SkyPhone without launching a browser.
Note: If SkyPhone is not installed, clicking the URL (https://~) leads you to App Store in the same way as before.

About the User Interface change
The timing to ask for permission to access your microphone has been changed.Before this update, the microphone permission alert was displayed when you made the first call after you installed the app.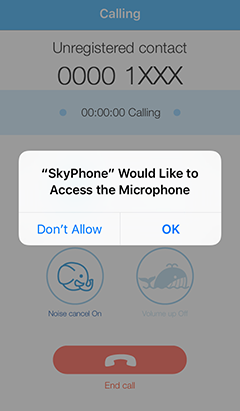 From this version, the alert will be displayed just after you get your SkyPhone number (only to new SkyPhone users).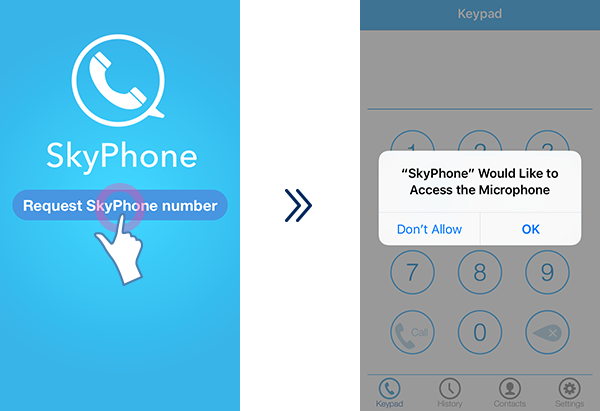 Note: If you select "Don't Allow," the other person can't hear you.
If you'd like to switch ON/OFF of the mic, go to "Settings" on the device > "SkyPhone" > "Mic."
Note: When you open "Settings" in SkyPhone, a message showing restricted functions appears.