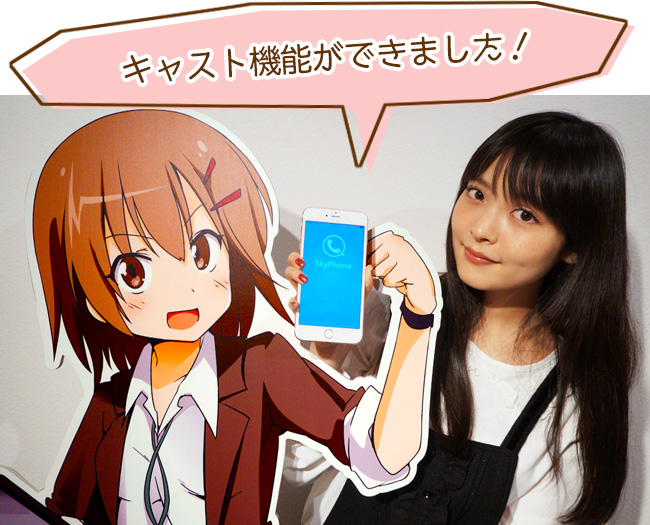 Now SkyPhone has a new feature, the Cast Feature!
The Cast Feature is a new function which broadcasts colorful content on your SkyPhone!
Make a call to the dedicated number and now you can hear a Japanese anime character's voice on your SkyPhone.
Using this feature, you can check the call quality (including sound quality etc.) within your current calling environment.
For example, when the other person says you sound unclear or when you've just installed SkyPhone, this feature allows you to check the calling status or reception as many times as you want to FOR FREE!
The first content for the Cast Feature is...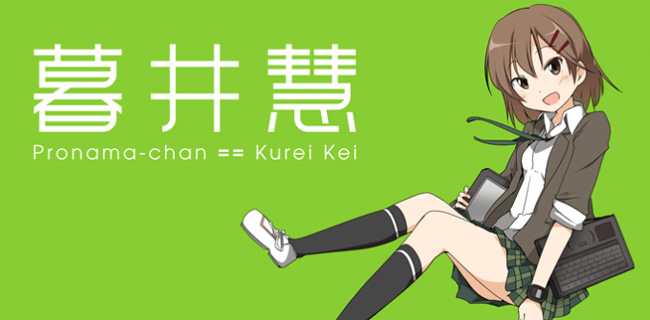 Kurei Kei's Profile
She is a girl who goes to a public high school in Tokyo. She belongs to the Study of Information Processing Club. She is an active person and likes exercise. So, sometimes she joins in sports club practices to play various sports. She works as a character for "The Programming Live Broadcasting."
The background story of "Kurei Kei" for the Cast Feature is as follows!

Kei was asked by her friend to create a simple-to-use phone call application.
She researched many phone call applications and came across SkyPhone.
In order to test the user experience on SkyPhone,
she is waiting for an incoming call from you!
Why don't you try out the SkyPhone feature with Kurei Kei?
Um..., but you should be careful of the time you call her because...!?
↓How to test SkyPhone with Kurei Kei↓
The voice actress for Kurei Kei is...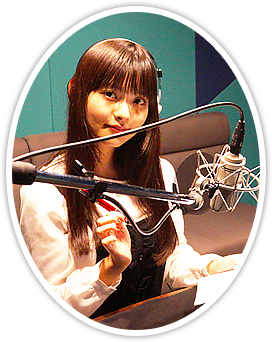 Sumire Uesaka
She was born in Kanagawa Prefecture in 1991. That was the year the Soviet Union collapsed and the Russian Federation was established.
She made her major debut as a voice actress in January, 2012.
Her main works are as follows: Myriad Colors Phantom World as Mai Kawakami, Luck & Logic as Athena, The Idolmaster Cinderella Girls as Anastasia, and Kantai Collection as Fubuki etc.
Sumire Uesaka Official Website
Sumire Uesaka Official Website powered by King Record. Co., Ltd.
Sumire Uesaka Official Blog
We had an interview with Sumire Uesaka, who stars as "Kurei Kei," the first character for the SkyPhone Cast Feature.
What are you thinking when you play as Kurei Kei?
Uesaka: Well..., I'm impressed with her smart, positive and open-hearted character which is common among science-oriented people.
For example, the later at night it is the more energetically she writes programs.
Actually, I'm not a scientific person but an artistic person who is quite different from her. Therefore, I try hard to act out her straightforwardness.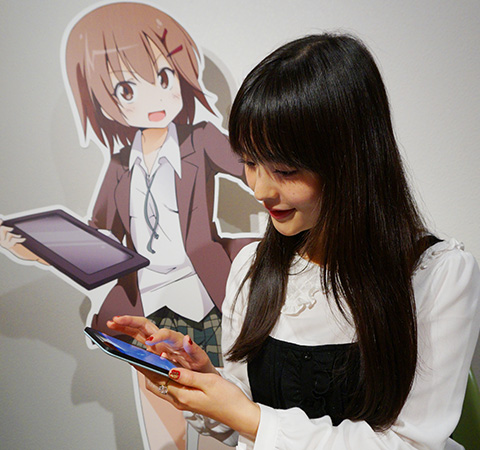 Are you also interested in programming like Kurei Kei?
Uesaka: I think it would be very fun, especially HTML.
When I get a script, I have to research every time I come across technical words that I don't know. It takes huge amount of time and effort to read through it. However, I think that's a piece of cake for Kurei Kei because I suppose that she can even build a PC easily by herself. So, I envy her concerning that point.
You are active in various fields such as animation, songs, and games. What do you want to try in the future?
Uesaka: I want to make a book about cosplay based on my taste. My plan is, make a group first, and then sell the book in Comiket (comic market) ... like that.
The idea suddenly popped in my mind the other day (LOL).
And it seems fun to make a movement to revive obsolete characters.
What do you think of SkyPhone after you used it?
Uesaka: When you open the app, a very simple screen appears, so it seems very easy for beginners.
I heard the camera shutter sound "click, click" clearly and fully when we took the photos of me using SkyPhone. That convinced me that her saying, "The sample rates are over 10 kHz," was true (LOL).
In fact, the voice sounded clearer than a regular phone call. Also, the app is very useful when you might have spent too much money for call charges.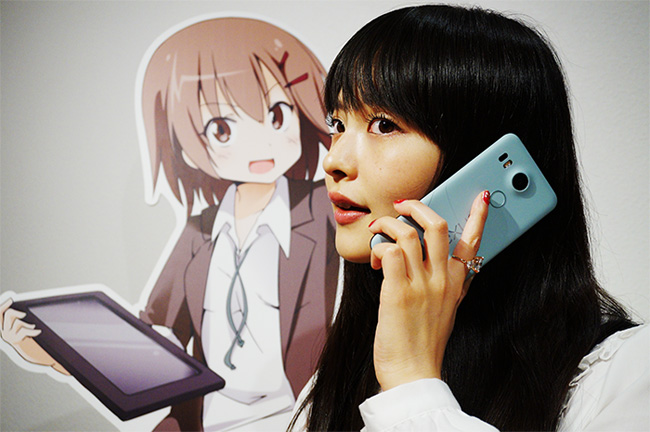 Are there any phrases that you want the listeners to listen carefully to?
Uesaka: My whispering, "Can you hear me~?"
You can experience this app's great performance by hearing that crystal clear sound.
Would you give us your feedback of the voice recording session?
Uesaka: You'll hear that Kei is punching keys and talking with her smartphone held between her cheek and shoulder. I hope that you can imagine the scene vividly by my performance.
And then, I strongly realized that the speaker function is very useful in such a situation.
Thank you very much, Sumire Uesaka!

1) Download SkyPhone
2) Call the following SkyPhone number: 00001901
Please note that the voice is in Japanese.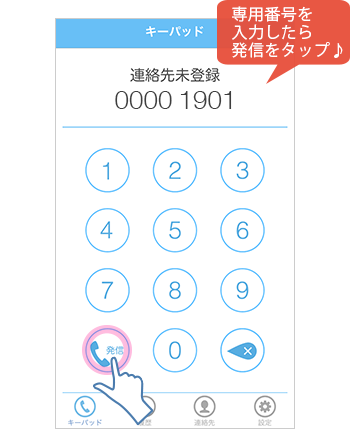 If you have SkyPhone already, you can call via the following link.

Note: Kurei Kei is used to sitting up late, but answering calls at midnight or later might be hard for her and...?