Thank you for using SkyPhone.
In iOS 14 or later, the popup below (asking you to allow the access to your local network) will appear when you make a call for the first time.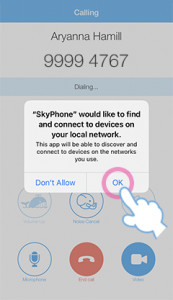 If you see the message above, tap "OK."
If you selected "Don't Allow" mistakenly, check the following setting.
- Go to "Settings" on the device > "SkyPhone" > Enable access to "Local Network."
Note: If the access is disabled, it is possible that you cannot start calling correctly.
We look forward to serving you for many years to come.